The Danish Boys Choir consists of a Concert Choir for boys in the age of 9-15 depending on the breaking of the boys' voices. In addition to The Concert Choir we also have a Junior Choir for boys on their 2.-3. year of school and a Beginners Choir for the youngest boys on their 0.-1. year of school. Furthermore The Danish Boys Choir consists of a teenage choir called The Young Boys, a Male Choir and a Barbershop Choir. This means that the boys can be members of The Danish Boys Choir through their entire lives. In the 5 choirs there are approximately 100 members in total.
Concerts, opera productions and tours provide the boys with numerous experiences and great inspiration. During their time at The Danish Boys Choir the singers meet multiple and diverse people and cultures in Denmark as well as abroad. This places demands on not just their voices but on their professional and social abilities; to manage friendships, working with practise, repetition, discipline, pressure and unexpected incidents on stage and on tours. Being a part of The Danish Boys Choir will strengthen and mature the boys, which grants them with a profitable foundation, that they can benefit from for the rest of their grown-up lives.
The Danish Boys Choir began its days in the year of 1943 during which time the society was affected by the German occupation. The choir sang good, danish songs – and the boys sang aloud in protest of the lack of freedom and the German superior force.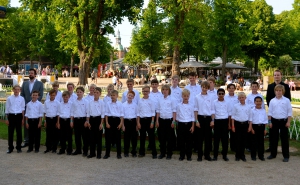 Since 1983 The Danish Boys Choir has been cooperating with The Royal Theatre. The Danish Boys Choir supplies boys to The Royal Theatre, where they work as singers and extras mostly at staged operas but also at a few ballets and theatre plays. Approximately 1500 choir boys have participated in about 1000 performances since the beginning of this collaboration.
Since 1943 the clear values of The Danish Boys Choir have had great impact on generations of boys. During the time spent singing with their friends, the boys are presented to values and traditions, that remain eternal and important:
Joy of singing

Understandig of music

Recpect for culture

Discipline and being well-behaved

Travels and wanderlust

Humanity

Friendships

Fun and games

Tolerance

Working relationships

Overview